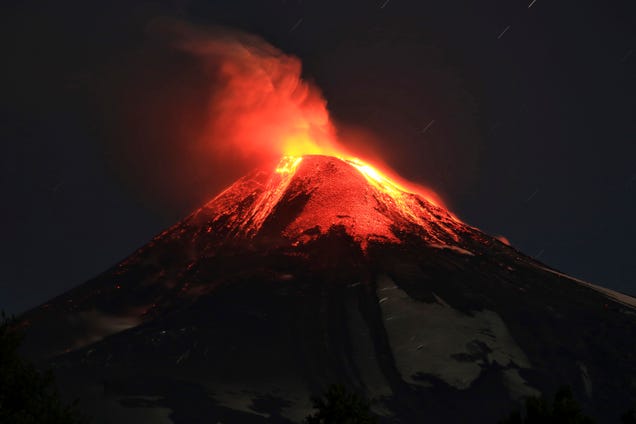 When we visited Pucon in January we were, like everyone else, joking daily about the infrequent siren tests of the volcano eruption warning system. There was no pattern. They just sounded once a day on different times. You only knew that nothing was happening when they stopped again. Actually we didn't think a warning system could be very efficient when the volcano Villarrica is this near the City, but like everyone else we felt pretty secure. We couldn't know then how fast the feeling of security that all people here felt would evaporate.
But first we climbed this active volcano!
Actually there are many tourists climbing the volcano every day. Then they slide down the snowy sides with little sledges. We rather wanted to fly down if the wind would allow it. That's why we took all our paragliding gear with us. It's nice that our pack with the KEA from Sky only weights around 8 kg. On the morning we started the smoke column over the Villarrica climbed straight in the air. That's a good sign that there is no wind on top. But that can change very fast here. Because we wanted to be on top before the wind became too strong, we took an old ski lift for the first 300 meters. So we had only 1000 meters left to climb. In a single our little group of 3 Brazilians, our guide and us was climbing the steep slopes and slowly overtaking many groups. At first it was easy but after 2500 meters of altitude we could feel the air getting thinner and the climb became more strenuous. Nice that our paragliding equipment only weighs in at 8 Kg. Finally we arrived on top as one of the first groups, huffing and puffing but happy. There was no wind at all, so we could enjoy the views around and in the crater and have lunch before searching for the best option to launch.
There was now a light wind from the west and we found a nice spot with snow to lay out our gliders. Launching was easy, but unfortunately there was not enough wind for soaring. Together we flew in the direction of the beach of Pucon. It was a nice glide of 20 minutes, the views where spectacular, but then the wind from the lake became too strong and we had not enough height to cross the city. We found a nice field on the outskirts where we landed. From there it was an easy walk back to the city.
Two months after our visit and climb of the Villarrica, there was a volcano outbreak. A big pat of Pucon was evacuated and the Lava melted all the snow on Villarica. It's a weird feeling thinking that we stood near this volcano crater that can destroy so much!